Couple Saves Cat Whose Paws Were Frozen In Ice During Deadly Weather.

The winter in the town of Zlatoust, Russia has been relentless. A man named Sergey Baranov discovered a cat whose paws were stuck in the ice.He said the cat was trying to hide underneath his car to seek warmth, but the icy cold weather eventually froze his paws and wedged him in the snow. Baranov moved his car and got his wife, Yelena, to help him rescue the cat.The fluffy feline was stuck in cold temperatures that were as low as -35°C (-31°F). A blanket of ice encased his fur coat and his whiskers were caked in frost. Yelena immediately went to get a bucket of warm water to help defrost the ice while her husband stayed put to watch over the cat.
ReadMore;
https://www.lovemeow.com/couple-saves-cat-whose-paws-were-frozen-in-ice-during-deadly-weather-2124813895.html

Scraggly Cat Found by the Road Comes Running When a Man Stopped for Her.

A man spotted a cat wandering alone near a road-stop off the highway. The scrawny little kitty stuck her head out of the tall grass as he drove by. ~ Read More:
http://www.lovemeow.com/scraggly-cat-road-rescued-man-2547073994.html
~*~*~*~*~*~*~*~*~*~*~*~
A kind-hearted man saw two little white boots under a truck by the tire and found a tiny kitten clinging to it. Her cat mother ran away and left her behind, so the man knew he had to step up to help. – Meet Axel!
Read More:
http://www.lovemeow.com/man-found-stray-kitten-clinging-1809975166.html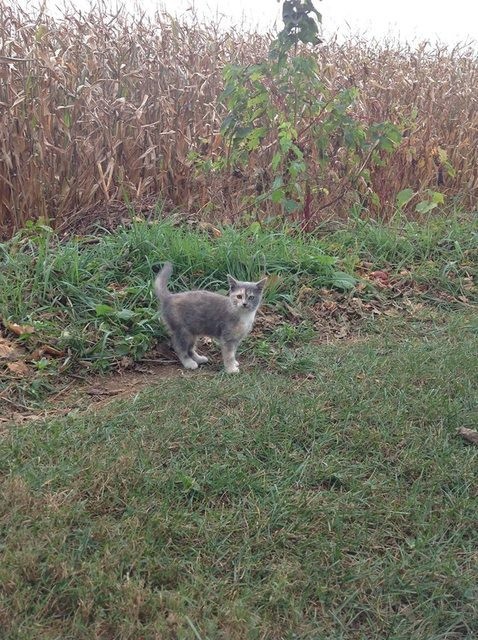 They say cats choose their humans. This is exactly what happened to this guy who met a calico cat in an unexpected way. The little stray came out from a cornfield, walked up to the man and the rest is history.
The kitty has been spayed and now is living like a queen as a happy indoor cat.
Read more at http://lovemeow.com/2015/10/man-chosen-by-calico-stray/#LYcSCjcSsmBOKUxd.99http://lovemeow.com/2015/10/man-chosen-by-calico-stray/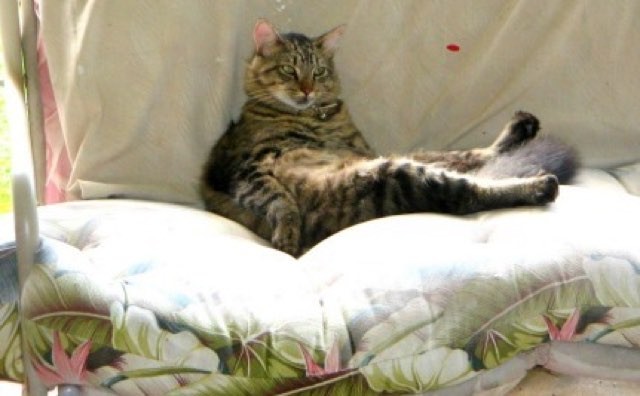 April 23, 2015
This Cat Breaks Out of Shelter to Return to His Rescuer who Cared for Him.
This cat broke out of the shelter and went to find his rescuer who cared for him.
Nothing could stop him from finding the person he wanted to be with.
Read more at http://lovemeow.com/2015/02/cat-breaks-out-of-shelter-
return-to-rescuer/#uBPoG8byq5X006IE.99
Cat Missing for 6 Years Comes Home For Christmas!
A cat that was missing for six years is finally home this Christmas. Her name is Taz who
disappeared back in 2008 after their family cat Mia passed away.
Taz was nowhere to be found despite the family putting posters up and looking around for her.
On December 5, the family decided they were ready to adopt a kitten. They went on the Cats Protection
website and one thing led to another, they were looking at adult cats that were needing homes.
Read more at http://lovemeow.com/2014/12/cat-missing-6-years-comes-home-christmas/

Abandoned Kittens Found In A Shed, Nursed Back To Health, Wearing Baby
Socks As Protective Coats.
Love this story, read and enjoy!
Meet George and Elton, two tiny ginger tabbies, found abandoned in a shed. They were in poor
condition when the RSPCA took them into their care. The kitties are little fighters. They have
been nursed back to health and are now wearing protective coats made of baby socks to keep
them warm and safe.
protective-coats/#JrVCgzld2DB2Z5hX.99

Jackson's Tale
Cat found in Detroit with tail encased in ice.
Jackson was all alone outside in freezing temperatures in Detroit. He was found by a concerned citizen who noticed the cat's tail had become encased in ice from the cold and snow. Knowing the homeless cat needed help, the man brought the friendly cat to the Michigan Humane Society's veterinary center in Detroit. After an examination by an MHS veterinarian, it was determined that Jackson would need to have his tail amputated. Even though the gentleman who found Jackson could not keep him, he decided to pay for the cost of surgery and all medications and vaccinations that Jackson would require to ensure he would be ready for adoption. After fully recovering from his surgery, Jackson found a new forever home!
Lots of injured dogs and cats are surrendered to the Michigan Humane Society. Not many of them have a good samaritan to pay for their surgery, medications, and vaccinations. Your support is needed to help other injured animals get the veterinary care they need so that they can find a loving home. Please donate today.
Pinecone Rescued 
Cat stuck in tall tree for ten cold days
A concerned caller reported a cat that had been in a tree for 10 days and would not come down. Food and water had been left at the base of the tree. Yet the cat stayed put. In the midst of one of the worst winters Michigan has seen in years, this cat was suffering through the cold nights and snowy days, alone at the top of an evergreen tree in Detroit. Even from 40 feet down, we could visually see the deteriorating condition of this poor cat. Breaking out our extension ladder as we arrived on scene, we quickly realized that it wasn't going to reach her. She was still 10 feet away from the top of the ladder. We had to start looking at other options. "We have any climbing equipment?" somebody asked. An hour later, we had the climbing equipment, and most importantly, someone that knew how to use climbing equipment. Ten minutes after that, we had the cat in our hands. Pinecone, as we named her, was rushed back to the MHS Detroit Center for Animal Care where she received medical attention for dehydration and exposure as well as the first food and water she had seen in more than a week.
Pinecone has since been adopted by a loving family!
kitten found alone crying in the snow
I found this tiny little crying kitty all alone in the cold- blinded by a goopy eye infection.
I brought him in and his whole life turned around. 🙂
I made the video to show the true effects irresponsible pet owning.