Selkirk Rex Kittehs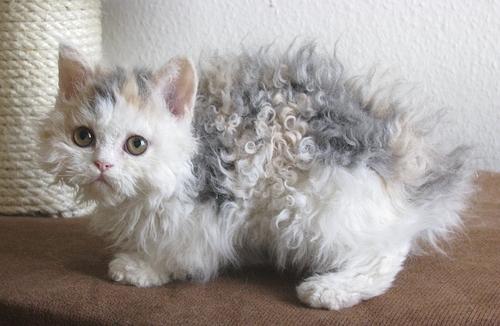 I love the look of this breed and I want one !
Selkirk Rex is an American lap cat with a highly curled coat similar to a teddy bear, resulting from a spontaneous genetic mutation. These domestic felines are the latest introduction to the 'Rex' group of cats and come in two hair types – long and short. The curly-haired kittens can be well distinguished from their straight-hair siblings right at birth by their curly, brittle whiskers. These medium-sized cats are sturdy and heavy-boned, with a round face and a long tail.
History
Back in 1987, a Persian breeder in Montana, Jeri Newman, noticed that, one of the kittens in a litter of a feral cat has an unusually curly coat. She acquired the kitten with a wish to carry the rex gene.
Read More:
https://en.wikipedia.org/wiki/Selkirk_Rex
 http://www.catbreedselector.com/selkirk-rex.asp 
Sites where you can purchase this breed:
http://cats.oodle.com/selkirk_rex/for-sale/
http://www.absolutelycats.com/23SelkirkRex.html